Frustrated with your smoke alarm service provider?
Then move to Coast Smoke Alarms and experience the Coast Smoke Alarms Difference!
Our Sunshine Coast team is based in Maroochydore, but we install and service smoke alarms to the highest standard all the way down to North Brisbane and north to Gympie.
Get in touch today to arrange a Coast Smoke Alarms call-out.
COMPANIES THAT CHOOSE AND VALUE OUR SERVICES.
The Coast Smoke Alarms Difference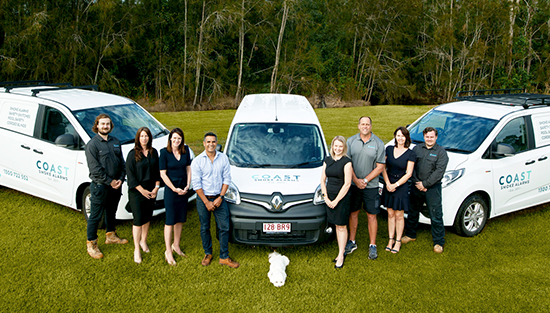 We ensure that your whole property management team have the knowledge and support needed to make your smoke alarm compliance work as stress-free and easy as possible.
We do so much more than just ensuring your portfolio is compliant.
With a Coast Smoke Alarms subscription you also receive:
Want to move your portfolio to Coast Smoke Alarms but worried it will be too stressful?
Our dedicated take-over team will work with you in person, making moving your portfolio to us quick and easy. Don't just take our word for it, see what other property managers have said about their move to Coast Smoke Alarms.
"We were worried that moving companies would be too time consuming and difficult but Coast Smoke Alarms made it so quick and easy. We are over the moon with the service we receive from them and Terry and Catherine are always on hand to answer any questions or deal with any problems."
Noosa Hinterland Realty Eumundi

"We decided to move to Coast Smoke Alarms after being constantly frustrated with our previous provider and their lack of communication and personal care to our needs. Had we realised just how easy it was to move to Coast Smoke Alarms and the fantastic customer service we would receive, we would have moved much earlier."

"We recently changed our entire portfolio to Coast Smoke Alarms and the transition has been seamless. Both Anne & Terry have been amazing, handling everything for us and making the entire process stress free. All our urgent jobs now get handled promptly and professionally. Highly recommend."
Why Choose Coast Smoke Alarms?




Leading Sunshine Coast Expert
Landlord Annual Subscription Service
Our annual subscription service is competitively priced, particularly as, unlike some providers, we offer unlimited support for false alarms. We also carry out warranty work for a variety of brands, even alarms installed by 3rd parties. This saves you time organising another visit from the original installer as well as ensuring the smoke alarms are fixed quickly, for the tenant's safety.
Annual Subscription*
Landlord

Unlimited inspections for new, renewed and break leases
Unlimited support for false alarms
Clean and test each individual alarm and ensure in working order
Test interconnectivity of all alarms (as per Building Fire Safety Regulations)
Check smoke alarms meet Australian standards (AS 3786:2014)
Undertake warranty work for EMERALD, CAVIUS, PSA, MATELEC and RED alarms inc. alarms installed by 3rd parties**
Check and record expiry dates on alarms
Photos taken of problem alarms/new upgrades (supplied upon request)
Compliance report issued within 24 hours of inspection
QR codes installed for links to our smoke alarm help videos to help tenants
Entry Notices emailed to tenant 2 days before inspection
SMS reminders sent to tenant on day of inspection
Corded Blinds Safety Check - extra $50
Tax deductible
*Subscriptions DO NOT include replacing smoke alarms (unless under warranty) or moving them for any reason. An additional charge will occur if an alarm needs to be moved to make property compliant. If alarms are missing or broken at the time of inspection, then a cost for replacement alarm will be charged. If re-attendance to a property is required to rectify missing or broken alarms, a call-out fee will apply plus the cost of the replacement alarm.
** Where Coast Smoke Alarms cannot complete the warranty work the property manager / landlord may need to refer to original installer or Coast Smoke Alarms can replace these alarms for an additional cost
Additional Property Manager Services
Smoke Alarm Specialists with extensive knowledge of Building Fire Safety Regulations
1-1 support from dedicated Account Manager
Queries responded to on the same day
Problem alarms responded to on the same day
Outstanding local customer service team
Key list emailed the day prior to entry for efficient time management
Easy to use client portal providing 24/7 access to invoices, compliance details, work orders
Public and Product Liability Insuranceup to $10m
Professional Indemnity Insurance up to $5m
Useful Resources & Downloads
Landlord's Upgrade Pricing
per alarm Including GST and Installation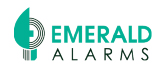 More susceptible to false alarms in some environmental conditions
1 month free after-care service
7-year warranty
Designed to withstand: Humidity: up to 85% Temp range: 5°C to 45°C
Mandatory controller (additional $40 per controller) to help locate triggering alarms
Long process to deactivate sounding alarms
Landlord's
Preferred Choice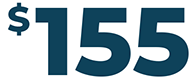 per alarm Including GST and Installation

Best value for money
Designed to cope with QLD harsh/humid environment
Low risk of false alarms
6 month free after-care service
10-year warranty Lifespan of a smoke alarm
Designed to withstand: Humidity: up to 95% Temp range: -10°C to 70°C
Easy to locate triggering alarm
Quick and easy to deactivate sounding alarms
Highest build quality and components – individually made by hand
Danish design
Australia's smallest alarm
per alarm Including GST and Installation
Copes well with QLD harsh/humid environment
Low risk of false alarms
3 month free after-care service
5-year warranty
Designed to withstand: Humidity: up to 95% Temp range: 0°C to 45°C
Easy to locate triggering alarm
Long established, well-known brand
Potential to add to existing Clipsal alarms to spread upgrade cost
5 ticks for quality SAI global
Smoke alarm compliance doesn't need to be stressful — Contact Coast Smoke Alarms today to discuss moving your portfolio
Fill in the form and our specialist team will reach out to you within one business day