Small enough to care, big enough to get the job done.
Safety sits at the heart of our business and is what drives us in delivering our high class service every day.
Our well trained, knowledgeable team are committed to keeping people safer in their homes. All our team live on the Sunshine Coast, Brisbane or the Gold Coast and our office is based in Maroochydore.
Uncompromising in our commitment to saving lives and protecting property.
We are often asked what our business does, what services we provide and how we provide them.  But we believe the most important question is why we do what we do. 
At the very core of our business is a commitment to keeping people safer in their homes. Safer from the potentially devastating consequences of a fire, pool fatalities, injuries or even death from dangling window blind cords.   
Safety sits at the heart of our business and is what drives us in delivering our service every day.
Companies that choose and value our services.
We are a professional property compliance company primarily providing smoke alarm testing, servicing and installation. We also offer safety switch testing, corded blind checks, pool compliance and methamphetamine testing. 
Our services are available to all homeowners, landlords and real estate teams. Our knowledgeable local team will provide
you with a service that you can rely on, giving you peace of mind that all relevant state and national safety legislations have been met.
We service all suburbs from North
Brisbane and the Sunshine Coast up to Gympie as well as the Gold Coast. 
To ensure we provide the highest level of safety for occupants we commit to:
Having a well-trained, knowledgeable, and caring team who truly understand and embrace the importance of their role in keeping people safe.
Only using premium quality smoke alarms which we know perform well in our humid coastal environment.
Being an advocate for safety in the home through the continuous sharing of information and advice with real estate teams, landlords, tenants, and the Sunshine Coast community.
Continually updating and improving our systems and processes to ensure we always offer the best customer service possible.
Our values are not just words on a wall, they are part of who we are, what we stand for and 
how we act.
I have used the services of Coast Smoke Alarms (Formerly Sunstate Property Compliance) for over 10 years and have seen the business develop and change over this time with different business owners. Recent changes, under the current owners, Terry & Catherine have improved the experience, and their new client portal is an exciting new chapter that will further enhance their great service. Smoke Alarm compliance is a critical part of what we do as a property management business and the knowledge that their staff are well trained and trustworthy is essential. Their service is prompt, courteous and reliable and their staff are always friendly to deal with both face to face and over the phone. I highly recommend Coast Smoke Alarms to any agency looking to use a professional company to handle their compliance needs.
I have had the pleasure with working with Coast Smoke Alarms for many years and have found them to be extremely professional in everything they do. They are most helpful and have reliable staff members. It has been great to find a local company that provides a personalised, flexible and proactive service, nothing is ever an issue and they are always so polite and courteous to deal with.
I cannot recommend Coast Smoke Alarms enough to any property managers looking for a knowledgeable and caring team for their property compliance needs. Nothing is too much trouble for Terry, Catherine and the team and they are absolutely committed to ensuring our tenants and properties are kept safe.
We were worried that moving companies would be too time consuming and difficult but Coast Smoke Alarms made it so quick and easy. We are over the moon with the service we receive from them and Terry and Catherine are always on hand to answer any questions or deal with any problems. We are so glad we moved to a local business that really cares about their clients and would happily recommend them to any other property managers on the Sunshine Coast.
I wanted to let you know that the new Cavius wireless smoke detectors you recommended look great. The install was quick, clean and professional. Highly recommend these detectors and your company. 5 stars.
We use Coast Smoke Alarms. They are based on the Sunshine Coast, they are small enough to care and big enough to do a good job. Over the years, we've tried others, but have found Coast the most reliable, easiest to deal with and most friendly.
FAA Property have been working alongside Coast Smoke Alarms for over a year now and have found it to be a very straight-forward and pleasant experience. The team are knowledgeable, honest and caring with every job they complete for us. We can depend on them to get the job done in an efficient and timely manner. The owners Terry and Katherine are genuine and hard-working people who value excellent customer service. FAA Property highly recommend Coast Smoke Alarms and will continue to use them for all of our Smoke Alarm needs!
Coast Smoke Alarms are an incredible partner to work with; their care of our clients is second to none and their professionalism is amazing. I would highly recommend them to anyone seeking a passionate and professional smoke alarm company.
We decided to move to Coast Smoke Alarms after being constantly frustrated with our previous provider and their lack of communication and personal care to our needs. Had we realised just how easy it was to move to Coast Smoke Alarms and the fantastic customer service we would receive, we would have moved much earlier. I urge any property management company who is constantly fighting battles with their current provider, to give the team at Coast Smoke Alarms a call now – you won't regret it!
Terry and the team have installed smoke detectors in over 50 properties for me in the space of 1 week. What could have been a strenuous process was seamless and extremely organised. The compliance report and photos added to what was already excellent communication.
Really pleased that as a renter, my landlord and agent used Coast Smoke Alarms to meet the new compliance standards. Your electrician was well-presented, friendly, super-efficient and answered all my questions about the new setup.
Communication with Coast Smoke Alarms is A+. Very efficient, friendly and knowledgeable with their years of experience in the industry. Our transition to this Company has been very smooth for both our Owners and Tenants. Look forward to a continued great relationship!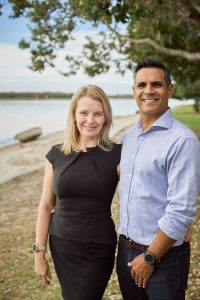 Terry and Catherine McGrath
Business Owners and Directors
Terry and Catherine are the energy behind Coast Smoke Alarms. As local business owners they are proud to always choose local and currently support over 30 Sunshine Coast based companies from accountants to website designers. They highly value and reward their amazing team and actively support mums and dads returning to work after children with family-friendly working hours and culture.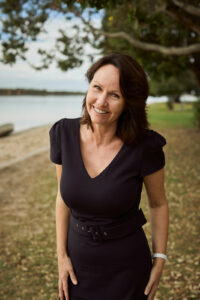 Anne
Account Manager
Anne has been in the Account Management industry for the majority of her working life and is very passionate within her role. Having emigrated from the UK in 2006, Anne brings with her a wealth of experience from being an Office Manager, Real Estate Agent and running her own business whilst raising her 2 children. Anne's strengths are building and maintaining relationships with current and new clients, as well as problem solving to reach the desired end result for both parties. Anne has a great sense of humour, enjoys hanging out with her family and friends at the beach as well as taking long lazy strolls with her rescued dog, Scruffles.
Jen
Admin & Operations Team Leader
Jen has over 25 years experience in all aspects of administrative support and thrives on providing great customer service. She genuinely aims to please and will always go above and beyond the call of duty. Along with running her own local business support centre, Jen has been the orchestrator of many large corporate events, both nationally and internationally, and loves putting her organisational skills to the test. When she's not organising the office, or her family, she likes to get outdoors and enjoy the best of the Sunshine Coast.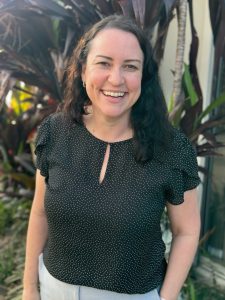 Renee
Administration / Customer Service Specialist

Renee has been with Coast Smoke Alarms for almost a year and settled in so well, we say she's come 'home'. Prior to coming on board, she was a very busy Property Manager here on the Coast. Her role allowed her to hone her skills as a problem solver and provide exceptional customer service. She thrives on making sure our clients are happy and building a strong rapport with everyone she comes in contact with. Hailing from Tasmania and the very proud mum of 3 teenagers she enjoys seeking a little quiet time whenever possible!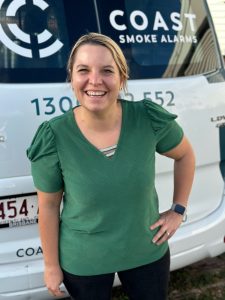 Cindy
Administration / Customer Service Specialist

French born, Cindy is deeply passionate about travel, hiking, and wildlife. Her professional journey includes a rewarding 10-year stint as a vet nurse and several years in administration. Cindy's move to the Sunshine Coast two years ago marked a new chapter in her Australian life. Now, she loves enjoying the local wildlife, hiking trails, and beaches.
Rachel
Administration / Customer Service Specialist

Rachel has 16 years' experience in real estate sales and administration and throughout her career, has been dedicated to helping clients navigate the world of real estate and achieve their goals. In addition to her professional work, she also spent a year and a half as a support worker, where she had the opportunity to learn new communication skills and assist and empower others. She is proud to be mother to a beautiful daughter and grandmother to a lovely granddaughter. When she's not working, you will find her enjoying the peacefulness of the beach and family life.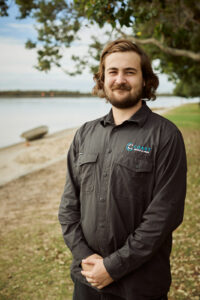 Nicholas
Electrician
Queensland born and bred, Nic is a highly skilled electrician with over 3 years dedicated to installing, troubleshooting and maintaining smoke alarms on the Sunshine Coast. His detailed knowledge of the legislation specifically required for Queensland and his focus on safety brings a high class service to every property. To keep the energy flowing he loves packing up the truck to camp out under the stars.
Cameron
Electrician
Cam brings a wealth of skill and expertise to the team. With over 12 years' experience as an electrician, including 8 years running his own electrical business, he understands the importance of safety, reliability, integrity and customer satisfaction. Cam has returned to the coast after touring the country and is now keen to be part of a team with like-minded values, and of course, get back to enjoying the coastal 'vibe'.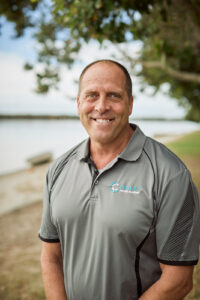 Anthony
Lead Technician
A family man who is Tasmanian born and bred, he came to the Sunshine Coast in search of warmer weather and decided to never go back! Anthony is our longest serving team member and brings with him 25 years' experience as a technician with Telstra. He prides himself on great customer service and always goes above and beyond to ensure any problems are resolved quickly and painlessly.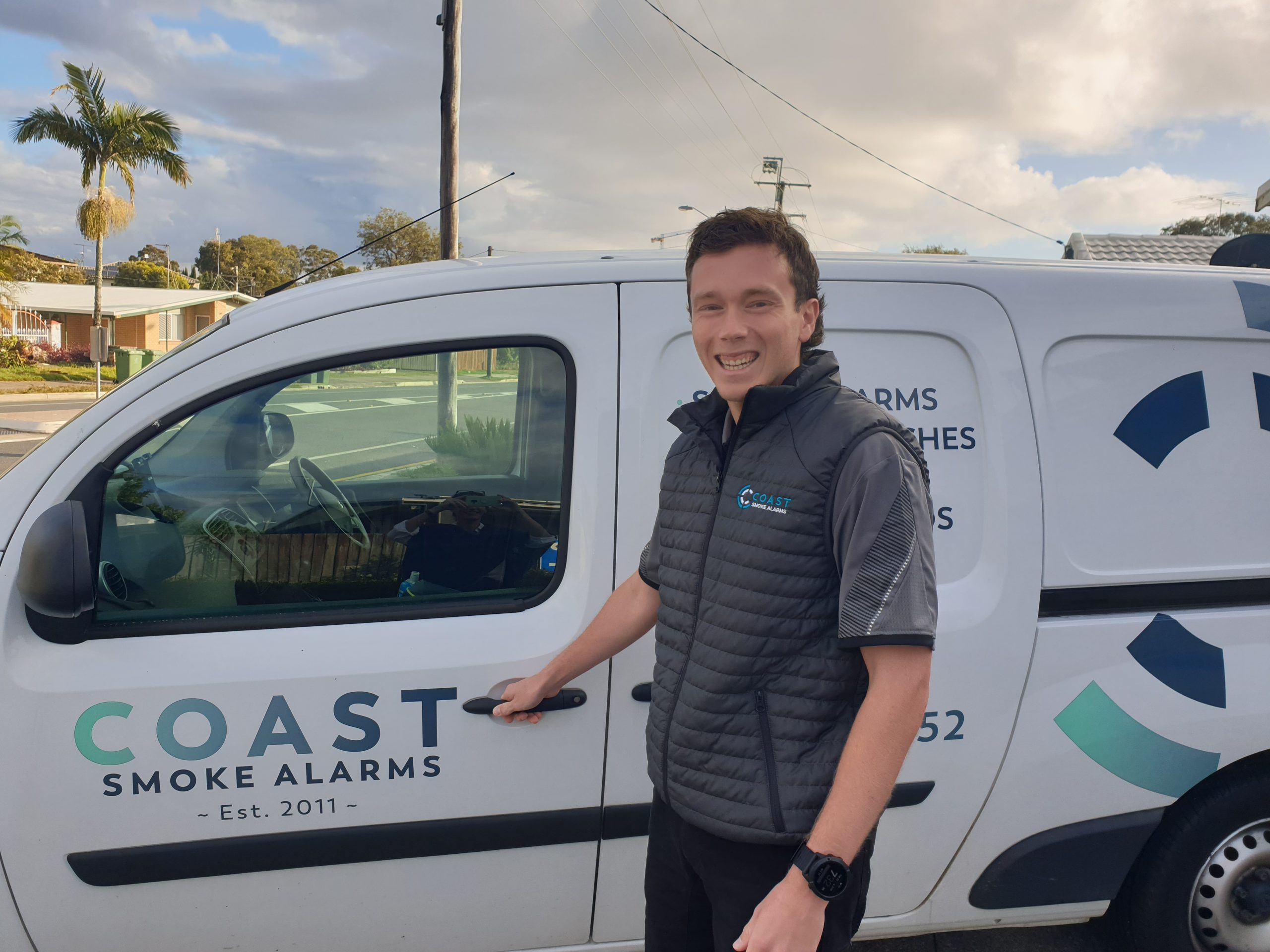 Bryce
Technician

Bryce brings a level of professionalism and attention to detail, beyond his 25 years, to ensure the occupants and properties in our care are safe and protected. Bryce arrived from Canberra earlier this year and is thoroughly enjoying travelling up and down the coast, getting to the know the area, and immersing himself in the coast culture. He's already mastered the Gold Coast marathon and enjoys following the rugby league. We aim to make a Maroons supporter out of him in the near future!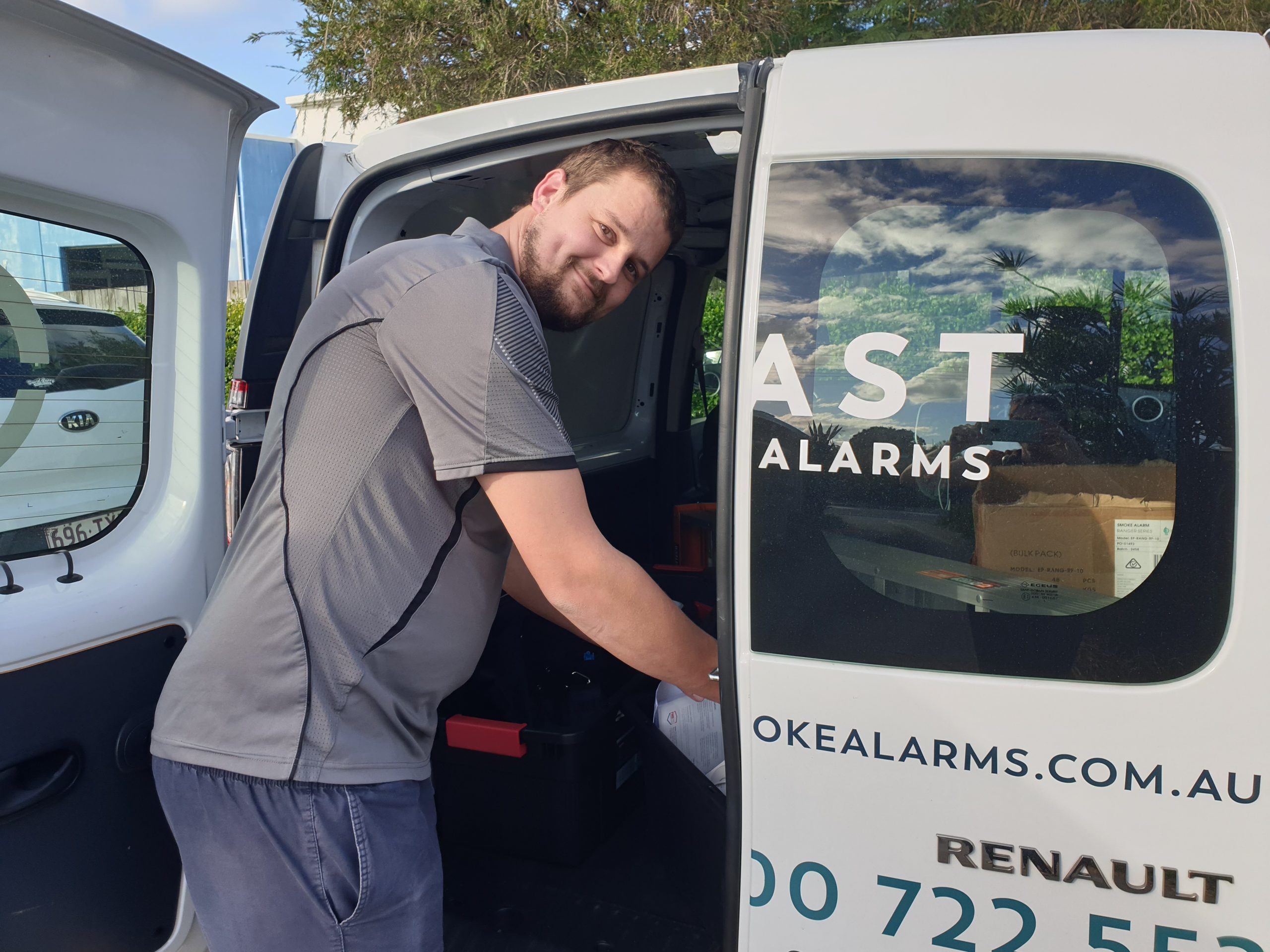 Luke
Technician

Luke is a true local lad who has lived all over the Sunshine Coast and is now raising his young family here. He has been a smoke alarm technician since 2019 so there's not much he doesn't know about fixing problem alarms here on the coast. Luke particularly enjoys the variety of work this role brings and the people he meets while out and about. When he's not fixing alarms, he loves spoiling his beautiful little girl.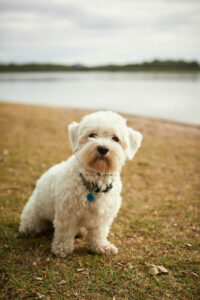 Mabel
Head of Security
Mabel was quite secretive about her role but did confide that as a 8kg Havanese a deep bark and stealth were essential skills!