The CAVIUS Smart Remote is part of the Wireless Family range. This unique device will provide you with the ability to test and hush your smoke and heat alarms without having to physically touch the alarms themselves.
Once either a CAVIUS Wireless Family smoke or heat alarm activates, the Smart Remote will strobe and vibrate as an additional measure to provide extra warning of any potential fire in your home.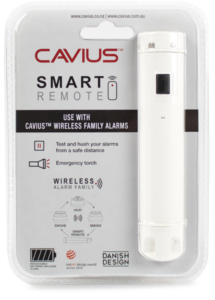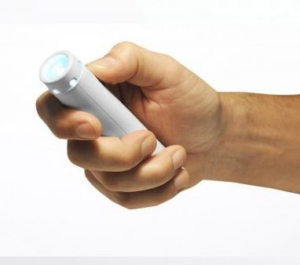 Features
STROBES AND VIBRATES once a smoke or heat alarm is activated
TEST AND HUSH your Wireless Family smoke or heat alarm with the remote
BUILT-IN LED TORCH for everyday use or if the need to evacuate
MAGNETIC WALL BRACKET for convenient placement
USE AS SYSTEM MASTER when setting up your CAVIUS Wireless Family
30-DAY low battery warning
CONNECTS with all CAVIUS Wireless Family products
Terms and Conditions
Customers may opt to purchase an Cavius Smart Remote when upgrading a property to 2022 QLD Legislation with Cavius Alarms.
Smoke alarm smart remotes ARE NOT required for smoke alarm compliance and are an optional one-off purchase.
The smart remote is NOT included in our annual subscription packages and will not be serviced or have batteries replaced following its installation.
Coast Smoke Alarms are not liable for the replacement of lost or damaged smart remotes. Replacements will be charged at $90.
The smart remote will be installed in a position deemed best by our electrician unless otherwise requested by the landlord.